Tangle-free turbine tool.
The only turbine tool that doesn't tangle. Counter-rotating heads with brushes remove hair from carpets and upholstery. No more tangles.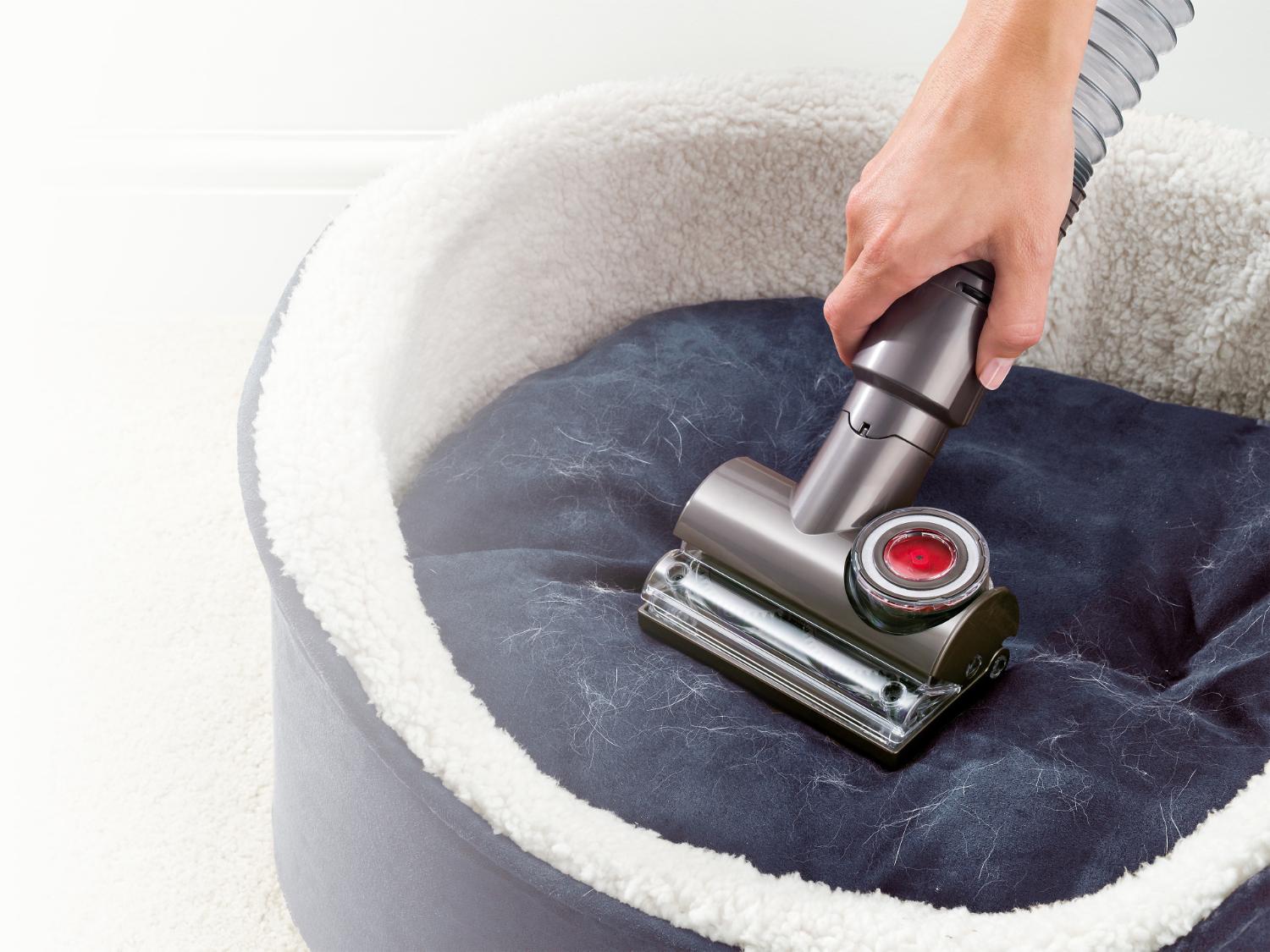 Tough on pet hair.
Removes stubborn, stuck-on hair from carpets, cushions, drapes and bedding.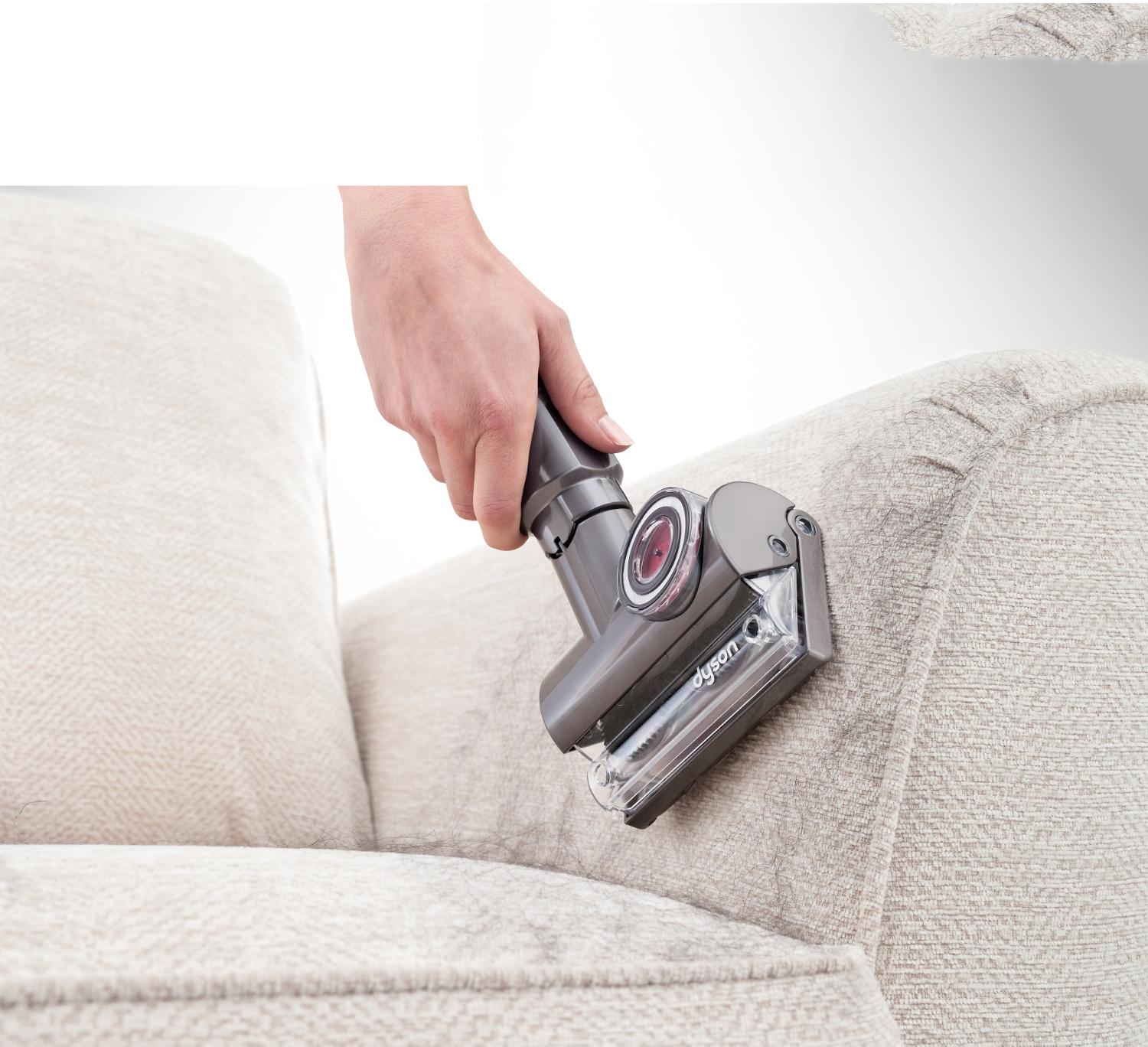 Adjusts across uneven surfaces.
Automatically adjusts to uneven surfaces, like cushions and upholstery covers.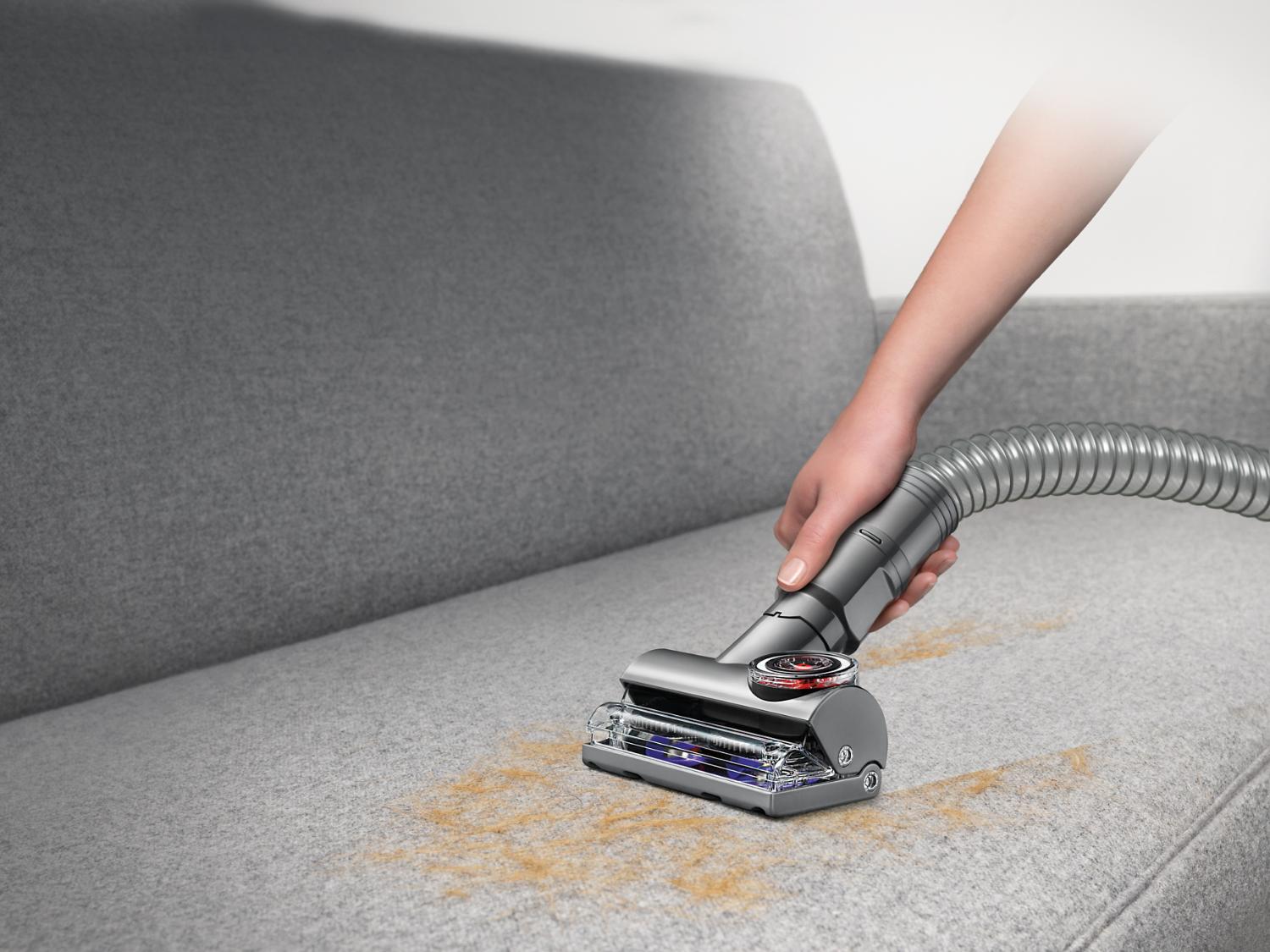 Edge-to-edge cleaning.
The brushes reach the full width of the tool, to clean right up to edges and deep into corners.
Articulating base plate
Cleaner head height automatically adjusts, so brushes stay in constant contact with surfaces.

Optimised brush position
Brushes are positioned to the front and sides of the tool, to draw in hair and dirt from all directions.

No brush bar, no tangles
Twin brush heads direct hair towards the centre of the tool, straight into the suction channel.

Also fits these machines
Some machines are excluded from the ranges shown
Dyson DC66 Animal
Dyson DC66 Full Kit
Dyson DC66 Full Kit
Dyson DC66 Animal
Dyson DC66 Multi Floor (Yellow)
Dyson Small Ball Animal
Dyson Small Ball Animal
Dyson DC77 Animal
Dyson DC77 Multi Floor
Dyson DC77 Animal
Dyson Ball Extra
Dyson Ball Extra
Dyson DC37 Animal
Dyson DC37 Multi Floor Pro
Dyson DC37 Origin
Dyson DC37 Animal
Dyson DC25 Animal
Dyson DC25 Multi Floor
Dyson DC25 Animal
Dyson DC25 Full Kit
Dyson DC25 Pink
Dyson DC51 Animal
Dyson DC51 Animal
Dyson DC32 Motorhead Full Kit
Dyson DC41C Full Kit
Dyson DC41C Full Kit
Dyson DC41C Full Kit with Tangle-free turbine tool
Dyson DC23 Motorhead Animal
Dyson DC23 All Floors
Dyson DC23 Motorhead Exclusive
Dyson DC23 Turbinehead Animal
Dyson DC23 Pink Motorhead
Dyson DC29 Multi Floor
Dyson DC29 Absolute
Dyson Cinetic Big Ball Animal
Dyson Cinetic Big Ball Multi Floor
Dyson DC42 Animal
Dyson DC42 Multifloor
Dyson DC42 Multifloor Origin
Dyson DC42 Animal
Dyson DC42 Animal Origin
Dyson DC33 Origin
Dyson DC33 Multi Floor
Dyson Big Ball Multi Floor
Dyson Big Ball™️ Extra
Dyson Big Ball Animal
Dyson Big Ball Origin
Dyson DC26 City Multi Floor
Dyson DC26 Turbine
Dyson DC78 Turbinehead Animal
Dyson DC78 Turbinehead
Dyson DC78 Turbinehead Animal
Dyson DC21 Full Kit (Costco Exclusive)
Dyson DC21 Stowaway
Dyson DC21 Pink
Dyson DC14 All Floors
Dyson DC14 Animal
Dyson DC43 Full Kit
Dyson DC43 Animal
Dyson Slim Ball Multi Floor
Not the tool you were looking for?
These tools also fit your machine:
Dyson groom tool
Part No. 921001-01
Comfortable, mess-free grooming for medium- and long-haired dogs. Fine bristles grab loose hairs, then release them into the bin.
Articulating hard floor tool
Part No. 920019-01
Swivelling brush head with an ultra-slim profile to reach difficult spaces. With soft nylon bristles to remove dust and allergens.