In the box

Here's what you'll see when you unpack your Dyson Cinetic Big Ball™ vacuum.


Using the tools

Get the best from your machine by using the right tools for each task.


Your Dyson Cinetic Big Ball™ vacuum

Get to know the main parts of your machine.


Storing your machine

How to correctly store your Dyson Cinetic Big Ball™ vacuum.


Emptying the bin

How to empty the bin hygienically.

To help you get the most from your machine. Quick and easy.


Tailored reminders that will keep your machine working at its best, for longer.


Priority access to previews of new Dyson technology, events and offers.


Expert advice. 6 days a week.

Telephone toll-free, email or live chat. The right advice for your machine, from real Dyson people.


Replacement parts if something goes wrong during your warranty period.


If we can't repair your machine, we'll replace it while it's under warranty.

We don't stop caring about our machines once they're yours. Activating your warranty allows us to give you a tailored, direct service for your machine. Even after your warranty has ended, we'll still be on hand to help.

Dyson Big Ball™ vacuums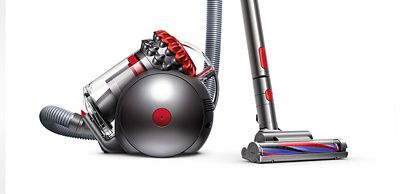 Dyson Big Ball Origin
Powerful Dyson suction.
Self-rights when toppled.
2 standard onboard tools.
What's in the box
See all
Click to learn more
Quick-release combination tool

Two tools in one - brush and wide nozzle. For switching between tasks.

Stair tool

Velour strips pick up hair and dirt from stairs

Turbine head

Stiff bristles and carbon fibre filaments pick up ground in dirt and dust
Buy direct from the people who made it