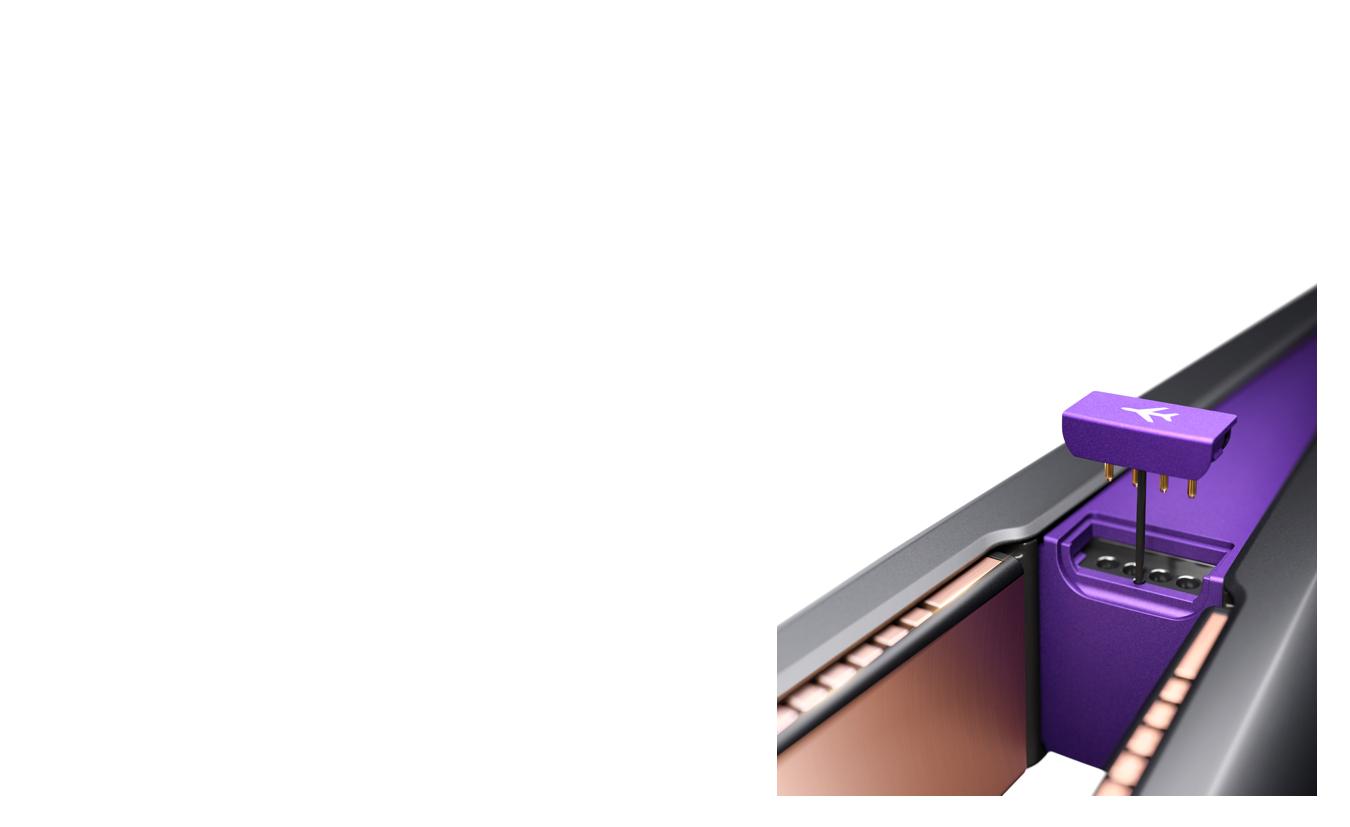 Please check whether your straightener has a two-pin or four-pin Flight-ready tag. For machines with a four-pin tag, there's a dedicated support page that can be accessed here.
Genuine Dyson spare parts and accessories for your machine:
Flight-ready tag

Part No. 970843-01

Replacement flight-ready tag for your Dyson Corrale™ straightener.
Flight-ready tag

Part No. 970843-02

Replacement flight-ready tag for your Dyson Corrale™ straightener.

Heat-resistant travel pouch

Part No. 970734-01

Safely stores the straightener, with a separate protector for the Flight-ready tag.
How to get your Dyson machine working to its full potential.
Automatically turns off for peace of mind

If your straightener is left unattended with the power on for longer than five minutes, it goes into Sleep mode and the flexing plates start to cool down. After a further five minutes, your straightener turns off completely.

Styling with the cable attached

If you need to style for longer, you can use your straightener with the cable attached in hybrid charge mode. This will extend the run time but you'll still need to fully charge between uses, as you'll still be using battery power when styling.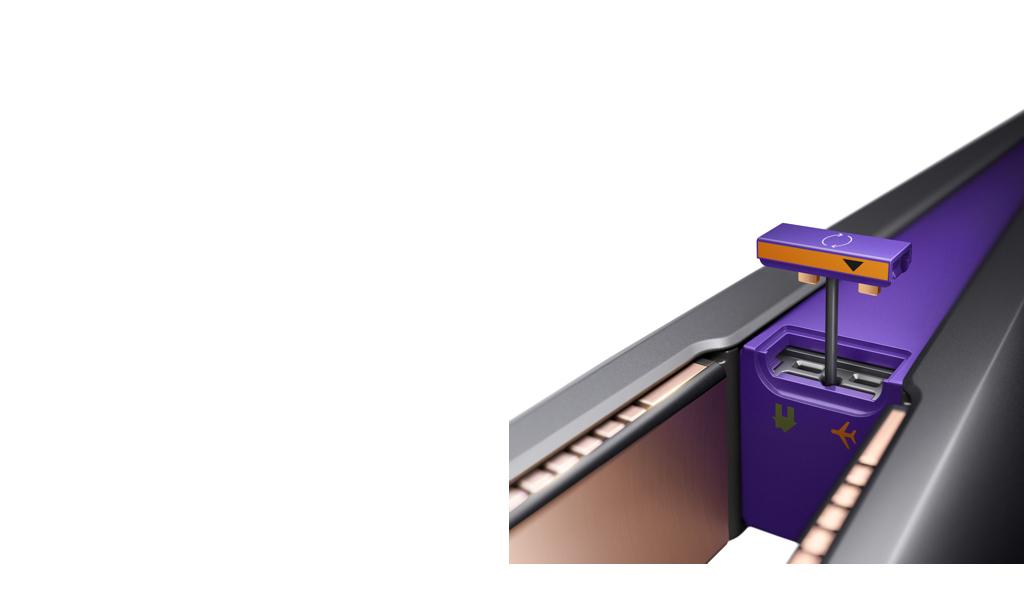 Flying with your straightener
Check your airline's guidelines as well as the Transport Canada and International Civil Aviation Organization (ICAO) websites for your local regulations regarding travel with lithium ion battery powered devices. To meet these regulations, your Dyson Corrale™ straightener has been designed with a Flight-ready tag that disconnects the battery. You need to set the black arrow on the tag to the Flight-ready position before airport security and leave it in this position throughout the flight.
You can find a step-by-step guide to flying with your straightener below. For machines that have a four-pin Flight-ready tag, support can be found here.
1. Unlock your straightener

Simply slide up the Lock button on the front of your straightener to open it.

2. Remove, rotate and replace the Flight-ready tag

Set the black arrow on the Flight-ready tag to the Home position to enable your straightener's controls. Your tag is tethered to your straightener. If your Flight-ready tag has four pins you can access support here.

3. Fully charge your straightener

To maximize cordless run time, always fully charge your straightener before using it. For further tips on how to maximise run time, see our section below.
4. Prepare your hair for styling

Your hair should be dry before you style. To get the best results, make sure it's also tangle-free.

5. Turn your straightener on

Press and hold the power button until a battery icon appears on the screen. If you see an error message, charge your straightener to 100%, then turn it on, off and on again to reset.



6. Choose your temperature

As the flexing plates enable enhanced styling with less heat for half the damage¹, we recommend you try the lowest setting of 330°F first. If you feel you need more heat for your hair type, length or desired style, you can increase the temperature to 365°F or 410°F.
The service includes labour and spare parts where required (excluding additional accessories and filters), which are guaranteed for 12 months or until service support ends for your machine – whichever is soonest. 
Live chat

Use the 'Live chat' button in the bottom left of your screen to talk to a Dyson Expert.