Dyson pick-up outperforms Shark
Shark IonFlex struggles to pick-up debris and to remove fine dust from deep within carpets. In fact, in max mode, Shark IonFlex maintains a geometric average of just 17% pick-up on carpets, while Dyson Cyclone V10™ vacuum, with its powerful Torque drive cleaner head, has twice that pick-up performance.¹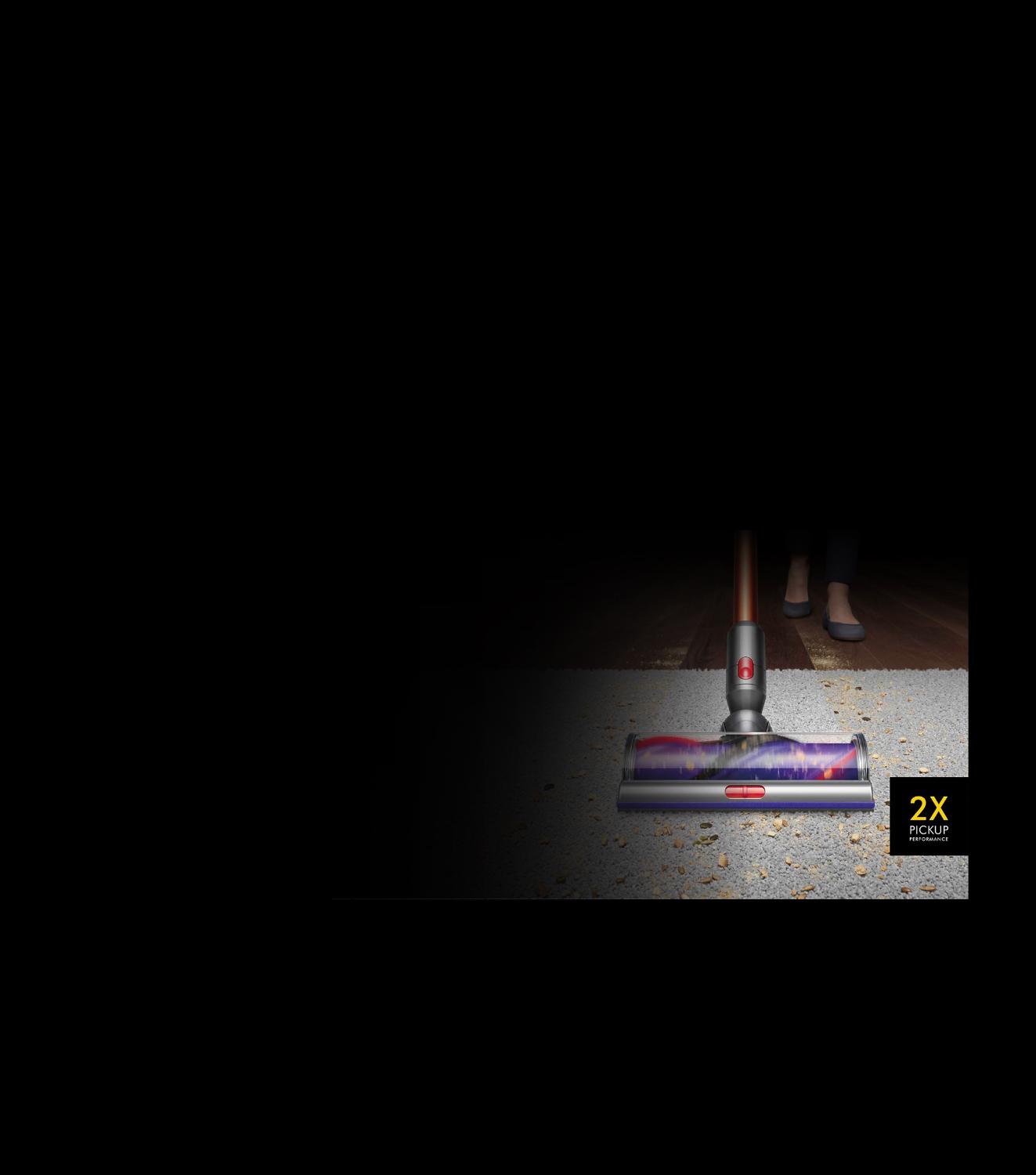 ¹Tested to ASTM F608 in highest suction mode.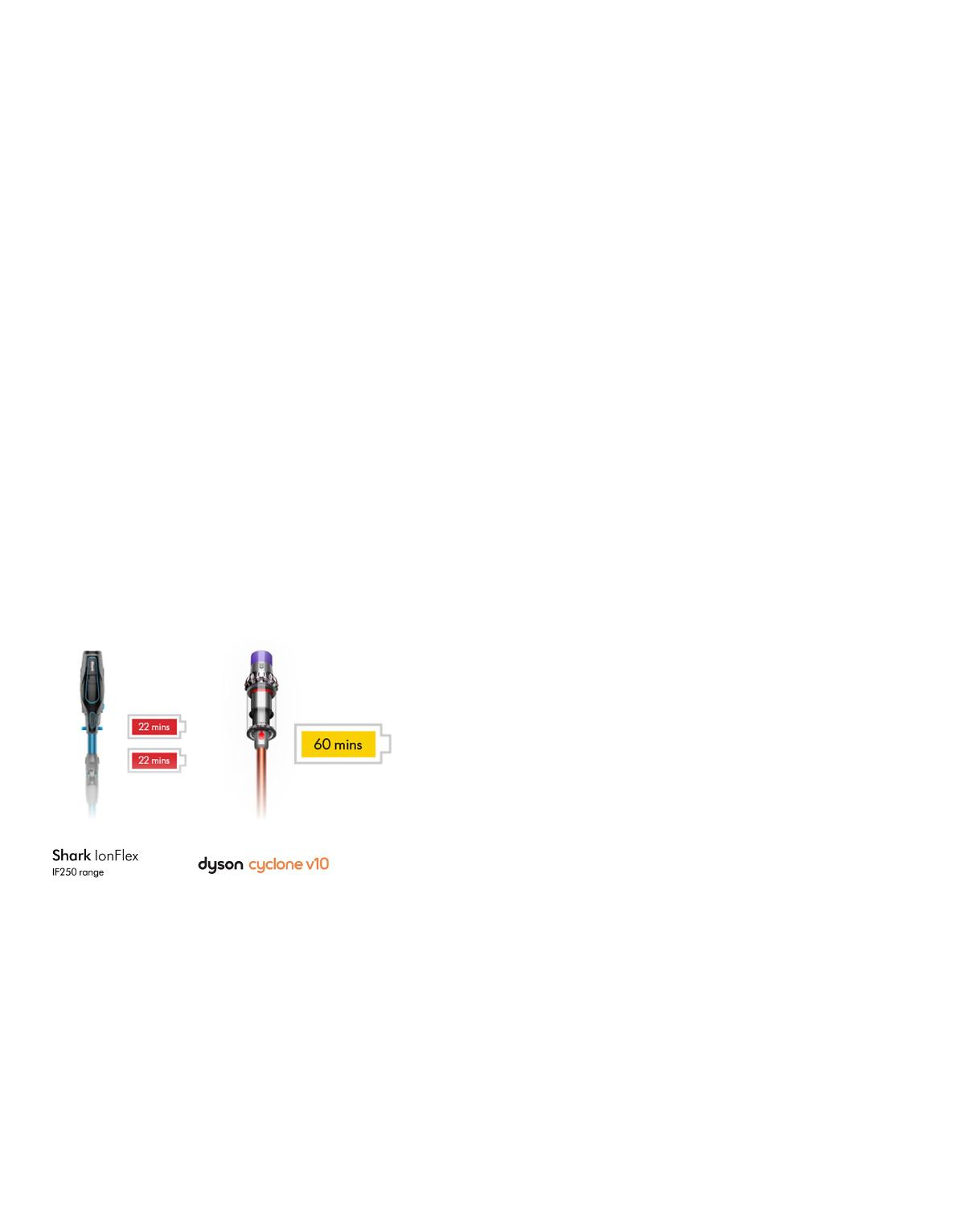 Longer Dyson runtime with a battery you don't have to change
Removable batteries can be cumbersome to swap when the charge dies. Shark IonFlex IF250 has two removable batteries that last 22 minutes each (in extended runtime mode). Dyson Cyclone V10™ vacuum has advanced battery technology that provides 60 minutes of cleaning time (in extended runtime mode).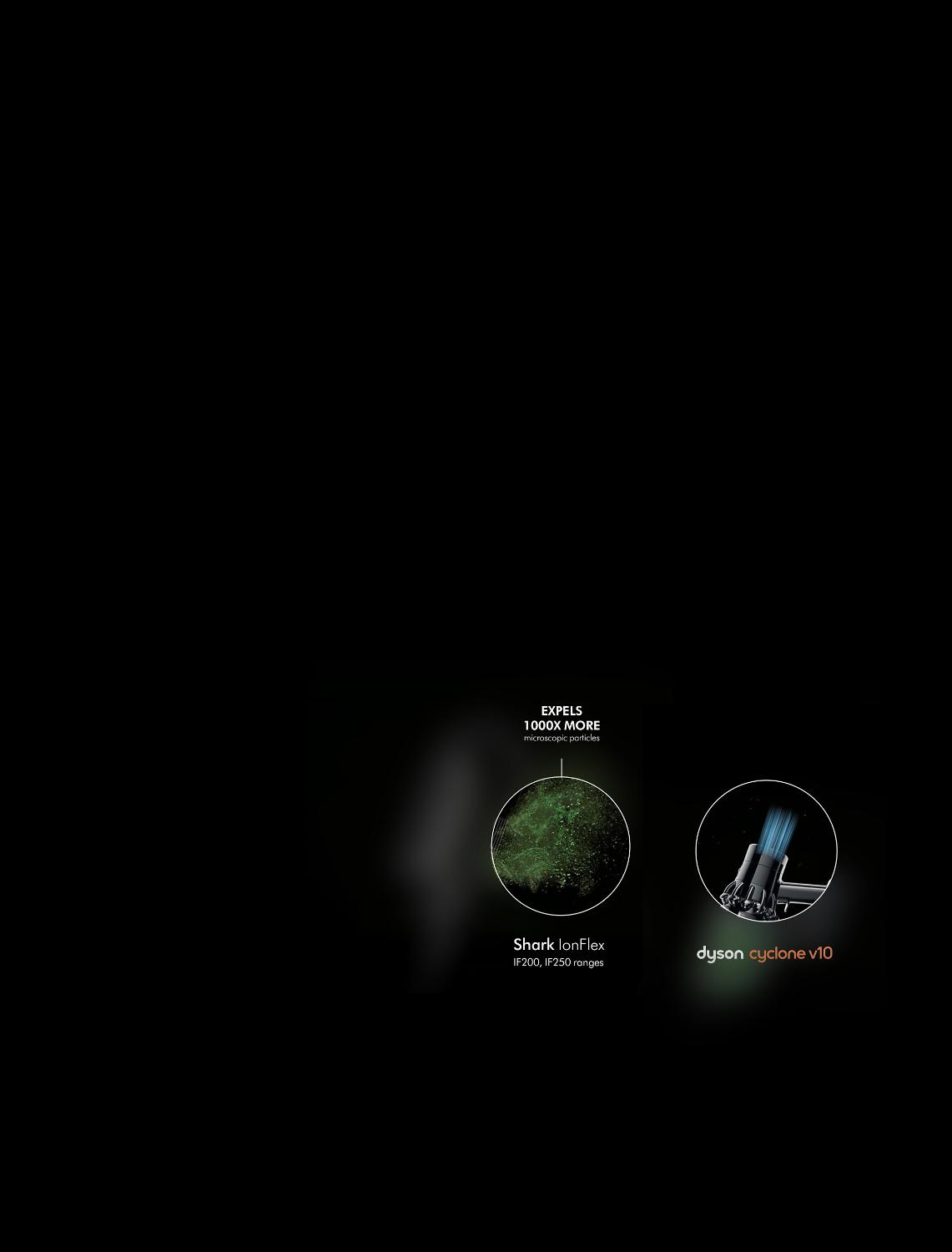 Dyson expels cleaner air than the air you breathe
Shark IonFlex expels 100x more microscopic particles than a Dyson V10™ vacuum.² Shark IonFlex isn't a sealed unit, so some fine dust and allergens bypass the filter and leak back into the air you breathe. Dyson Cyclone V10™ vacuum captures 99.97% of microscopic dirt and particles as small as 0.3 microns.²
²Tested to ASTM F1977 measured at 0.3 - 0.5 micron. Tested in max mode.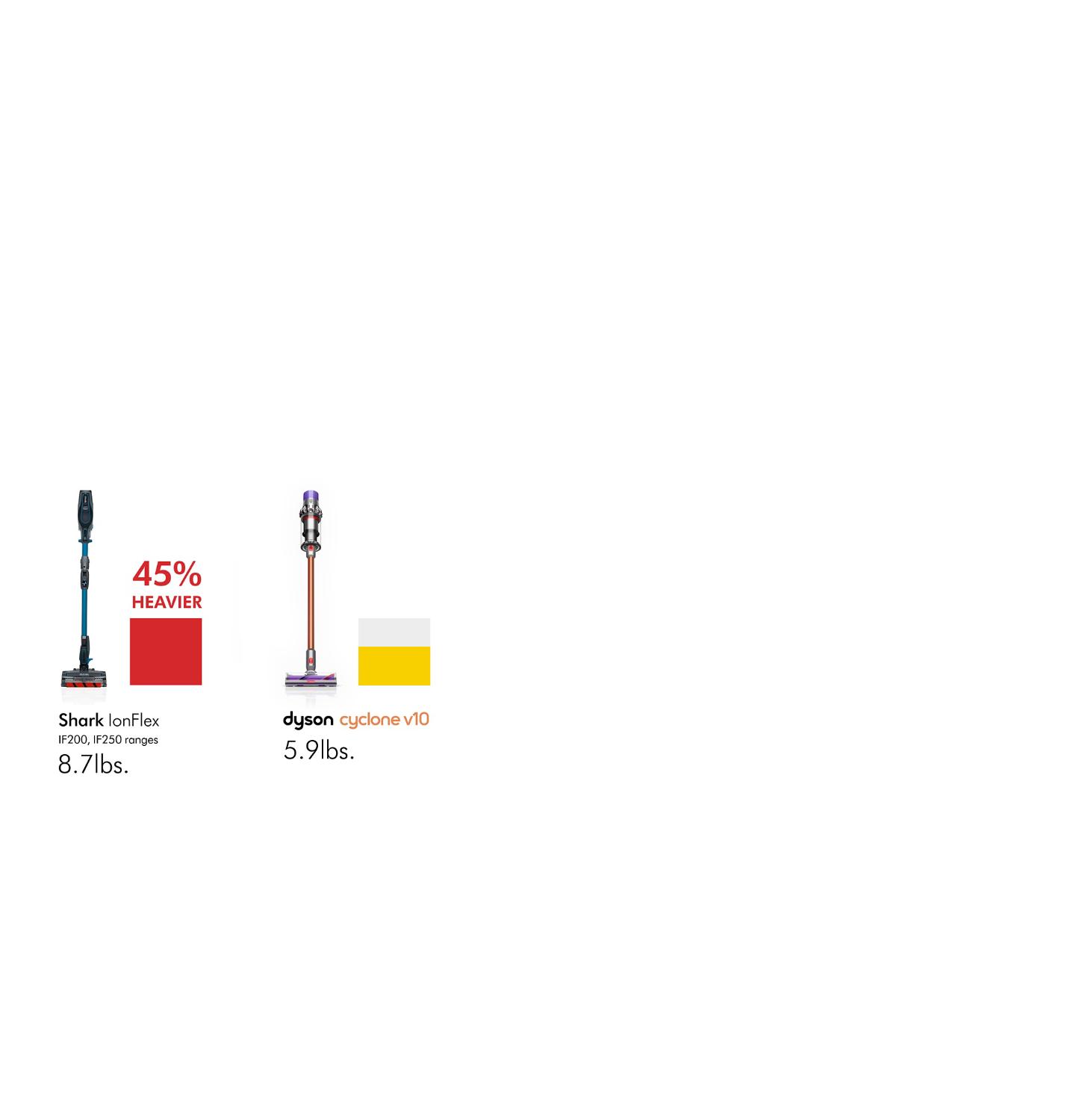 Lightweight Dyson design makes for easier lifting
Despite its lower suction power, Shark IonFlex's heavy battery pack and cleaner head mean it weighs 45% more than Dyson Cyclone V10™ vacuum.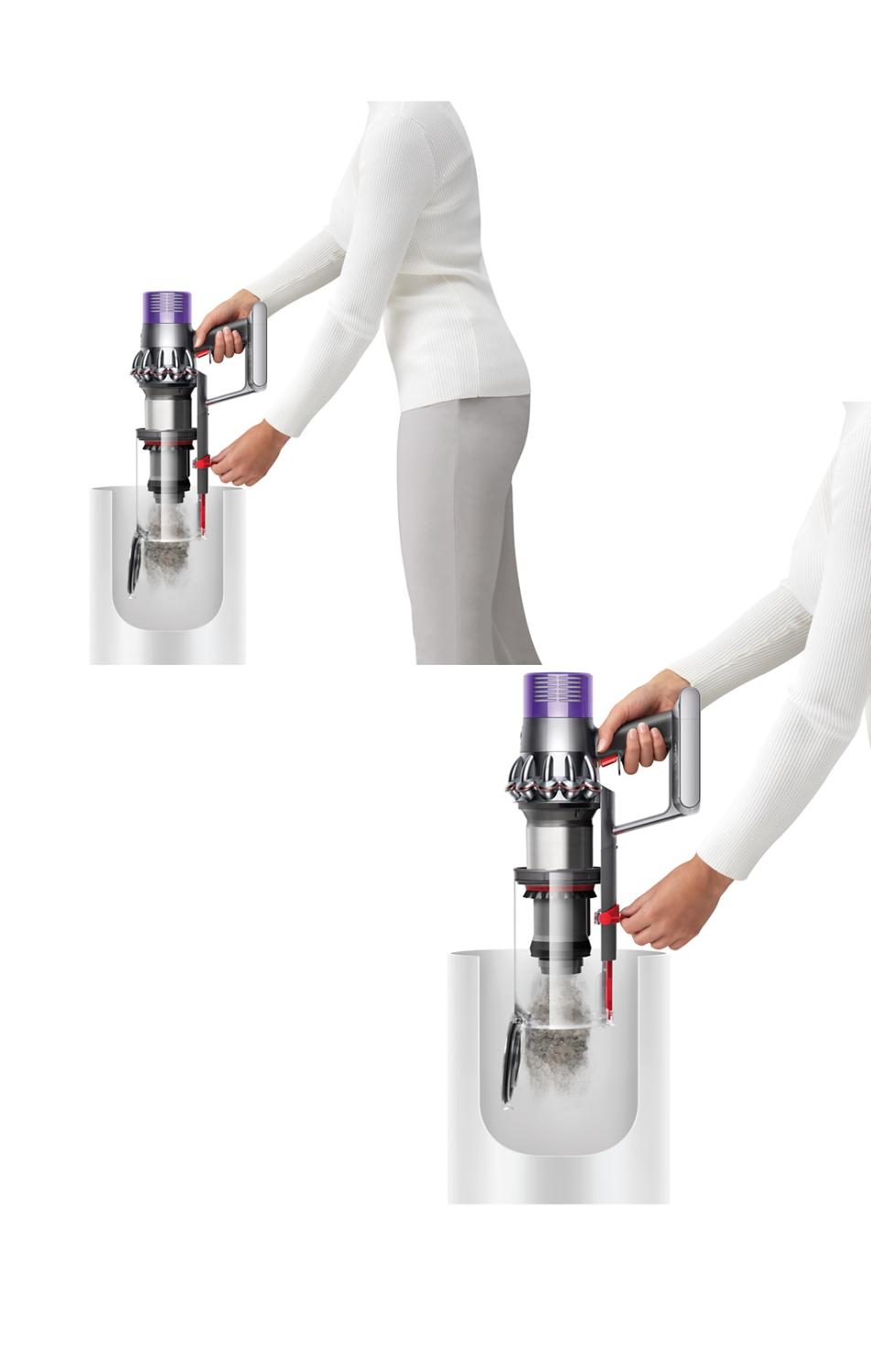 The Dyson bin can be emptied hygienically
Shark IonFlex's non-removable bin is awkward to empty. Dust, debris and fibers can get jammed inside, often requiring the user to pull out by hand. Dyson Cyclone V10™ vacuum has a "point and shoot" mechanism so there is no need to touch the dirt.
Dyson Cyclone V10™ vacuums
Dyson Cyclone V10 Animal
Up to 60 minutes of run time¹
30% more suction than the Dyson V8™ vacuum. Engineered for strong cleaning performance..
1 cleaner head and 4 tools
What's in the box
See all
Click to learn more
Torque drive cleaner head

Our most powerful cleaner head yet. Cleans across carpets and hard floors.

Charger

Charges your vacuum with or without the Docking station

Crevice tool

Designed for precise cleaning around edges and narrow gaps.

Docking station

Wall-mounted dock to recharge your vacuum and tidily store tools

Combination tool

Two tools in one, for versatile cleaning around the home

Mini motorized tool

Great for cleaning smaller surfaces, upholstery and stairs

Mini soft dusting brush

Easy, vacuum-assisted dusting. Soft nylon bristles clean delicate surfaces.
Buy direct from the people who made it