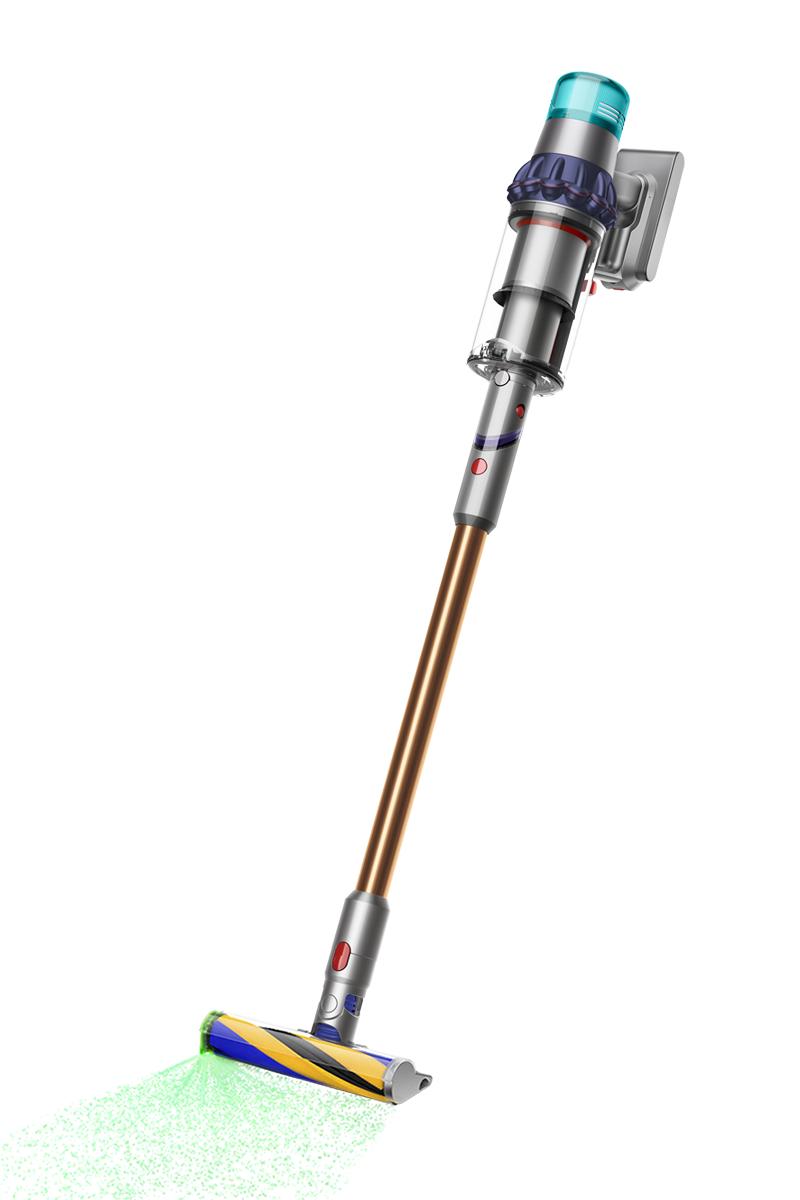 Unfortunately, this machine has been discontinued but we have some great alternatives.
Dyson V15 Detect Extra vacuum (Prussian Blue/Copper)
Powerful and intelligent for whole-home deep cleaning, now available in Prussian Blue/Copper only at Dyson. With laser illumination and HEPA filtration.²
Intelligently optimizes suction and run time⁺⁺
With the latest hair de-tangling technology​

Only at Dyson: HEPA filtration, 3 additional accessories, Built-in dusting and crevice tool, and limited edition Prussian Blue colour
Free shipping
2-year warranty
Please note that these include reviews of multiple V15 models, therefore features and tools referenced may vary from the available model. The V15 Detect Extra includes the Digital Motorbar™ and Laser Slim Fluffy™ cleaner heads, plus a Charger, Combination tool, Scratch-free dusting brush, Awkward gap tool, Extension hose and Wall Dok (Combi-Crevice Tool, Mini Soft Dusting Brush, Stubborn Dirt Brush, Mattress Tool, Low Reach Adaptor, Wand Clip not included).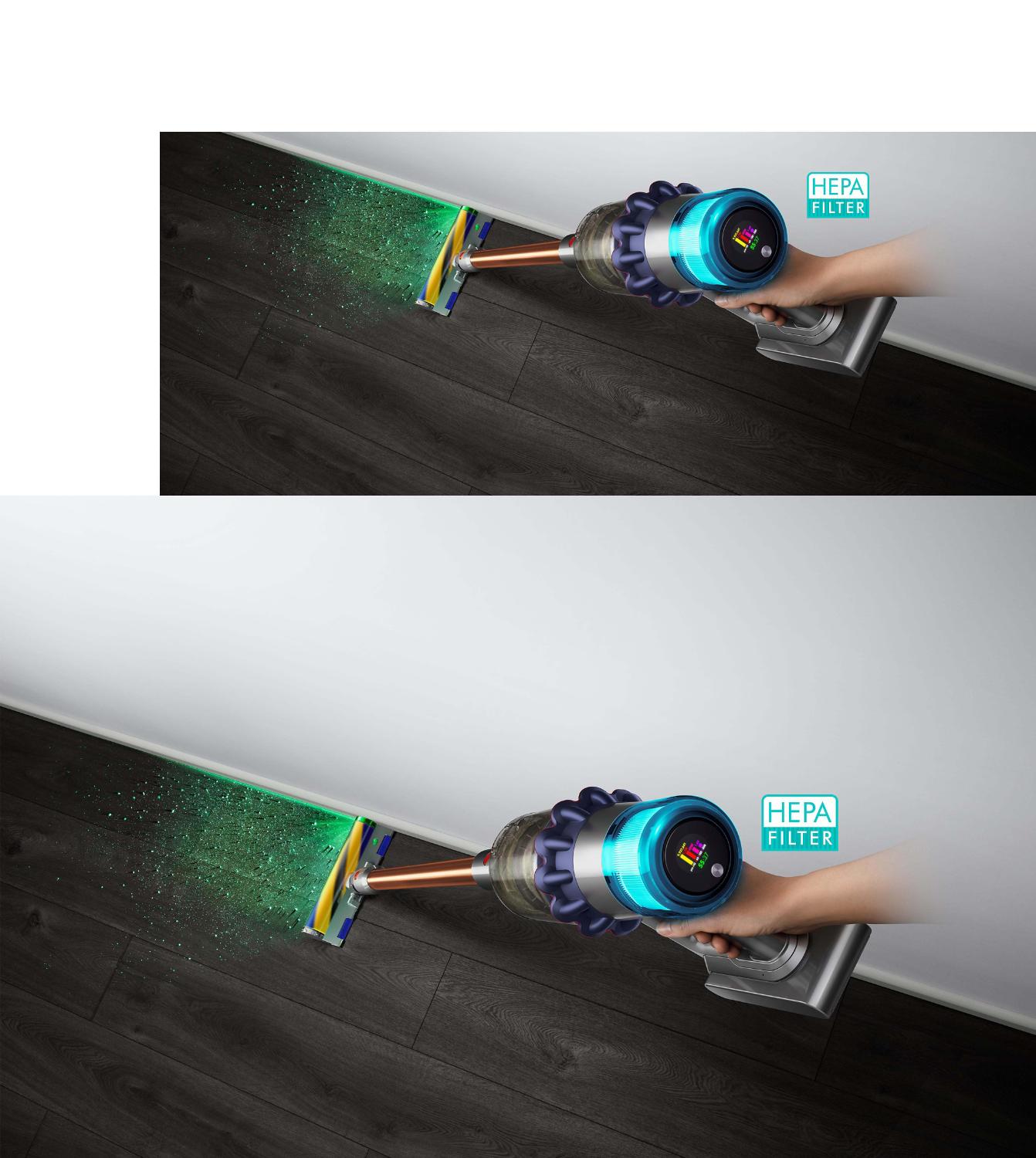 Powerful and intelligent for whole-home deep cleaning with whole machine HEPA filtration.² Exclusive to Dyson.
Only available direct from Dyson. The Dyson V15 Detect™ Extra vacuum in the limited edition Prussian Blue colour has an upgraded HEPA post-motor filter to deliver our most advanced filtration in a cordless vacuum.⁶

The Dyson V15 Detect Extra vacuum also comes with these exclusive accessories
New Scratch-free dusting brush

Cleans delicate surfaces. Then cleans itself. Self-cleaning – a rotating cuff keeps the soft bristles clear of dust. Twist to hygienically remove dust and debris from bristles. Clean after clean.

New Awkward gap tool

Twists 22° to reach the unreachable - the optimum angle to reach further and clean more in the hardest-to-reach, narrow areas.
Extension hose

Combines with any Dyson tool to reach further with a flexible wire helix that's engineered from tough wire sandwiched between two layers of durable plastic.

Built-in dusting and crevice tool

Wand detaches with a click to reveal a ready-to-go crevice tool stored inside for on-the-spot cleans. Only at Dyson.
Laser Slim Fluffy™ cleaner head has a laser that detects the particles you can't normally see¹

A precisely angled laser makes invisible dust visible on hard floors – so you don't miss anything.

Counts and measures the size of dust particles³

A piezo sensor continuously sizes and counts dust particles – automatically increasing suction power when needed.³

Scientific proof of a deep clean

The LCD screen shows what's been picked up, displaying real-time scientific proof of a deep clean.
Dyson Hyperdymium™ motor

The Dyson Hyperdymium™ motor spins at up to 125,000rpm to generate powerful and intelligent suction for whole-home deep cleaning. 

Root Cyclone™ technology

Dyson-pioneered cyclone technology generate centrifugal forces of up to 100,000g trapping fine dust and dirt in the bin, so your vacuum never loses suction.

Energy-dense battery

Each click-in battery provides up to 60 minutes of run time to clean everywhere around your home.⁴
Whole machine HEPA Filtration
Dyson's fully sealed filtration traps 99.97% of microscopic particles and allergens as small as 0.1 microns – and expels cleaner air.²
Carbon fibre filaments
Black anti-static carbon fibre filaments to extract fine dust from hard floors.
De-tangling Digital Motorbar ™ cleaner head

Powerfully sucks up dust and hair from all floors. Hair removal vanes automatically clear hair from the brush bar.

Intelligently adapts to floor types

In Auto mode, Dyson DLS™ technology inside the Digital Motorbar™ cleaner head monitors brush bar resistance 360 times a second, intelligently adapting power across different floor types.

The power to clean anywhere

The versatility of Dyson cordless technology makes cleaning your home easier. Powerful cleaning of floors, hard-to-reach places and mattresses.
Hair screw tool

Picks up long hair and pet hair. Fast. De-tangling conical brush bar spirals hair off and into the bin. Motor-driven cleaning for small spaces.

Laser Slim Fluffy™ cleaner head

Laser reveals invisible dust. Engineered with soft nylon and anti-static carbon fibre filaments to remove dust from hard floors and narrower gaps. With a low profile to reach further under furniture.

The right cleaning mode for the right task.

Three cleaning modes optimized for a variety of tasks. The right balance of power and run time where you need it. 

Intelligently reports in real time

Digital display shows run-time countdown to the second and displays maintenance alerts, giving you complete control of your clean.

Easy to maintain

The filter and Laser Slim Fluffy™ brush bar can be washed, and the bin and tools wiped clean, to remove dust build-up and help optimize your Dyson vacuum's performance.⁹

Click-in battery

Remove and replace at the press of a button for even longer cleans. Click-in batteries can be charged on or off the machine (second battery available to buy separately).¹⁰
Specifications
Weight

3.1 kg

Charge time

4.5 hrs

Run time

Up to 60* min

Cyclone technology

14 cyclones

Filtration

Whole-machine HEPA filtration

Bin volume

0.77 L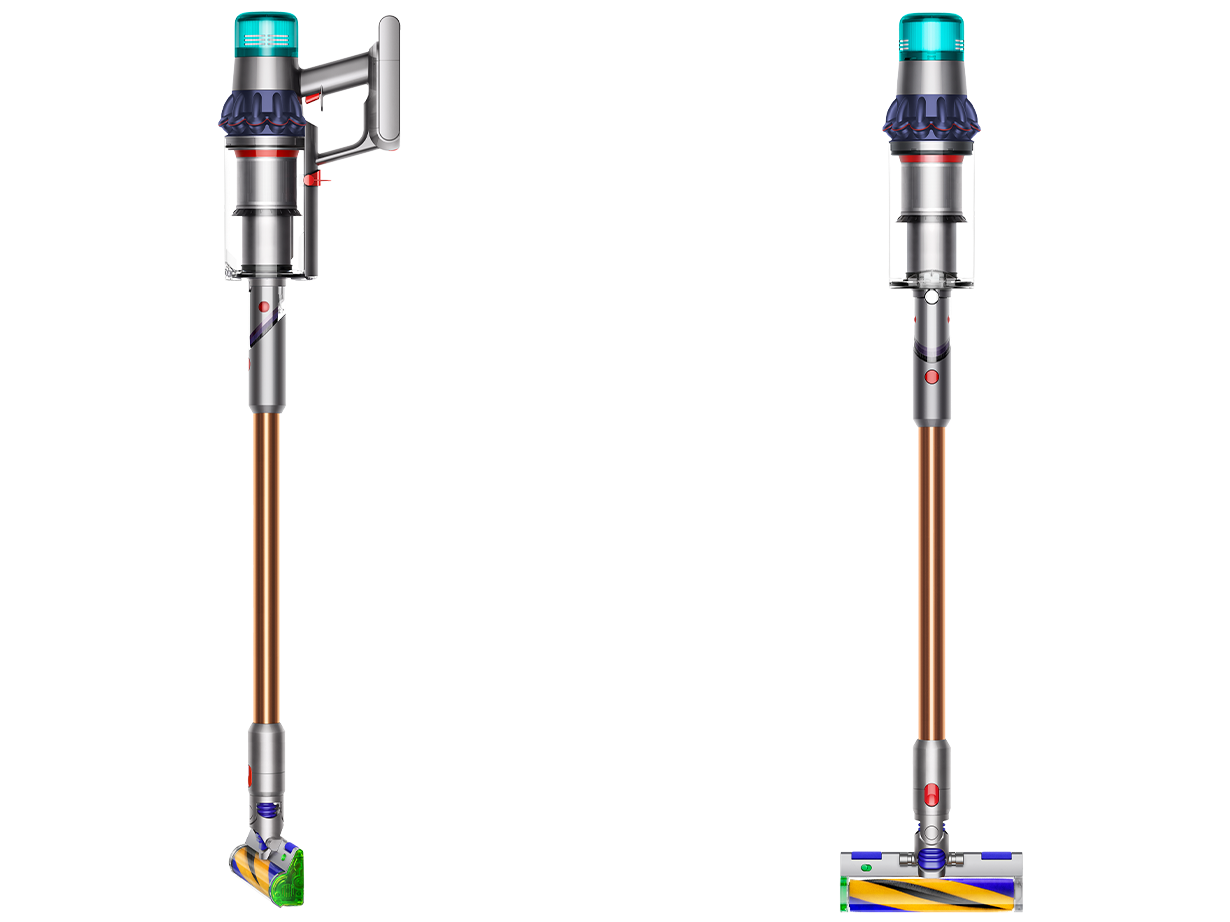 Height

1,250 mm

Length

126 mm

Width

266 mm
Buy direct from the people who made it
¹ Laser engineered for hard floors. Effectiveness of laser influenced by ambient light conditions, debris type and surface. Laser technology only available on Laser Slim FluffyTM cleaner head.

² Filtration tested in Boost mode against ASTM F3150. Tested at the inlet to ASTM F558, dust loaded.
³ Accuracy may vary. Best accuracy in Auto mode. Auto ramp feature in Auto mode only.
⁴ Actual run time may vary based on power mode and/or attachments used.
⁺⁺Accuracy may vary. Best accuracy in Auto mode. Auto ramp feature in Auto mode only