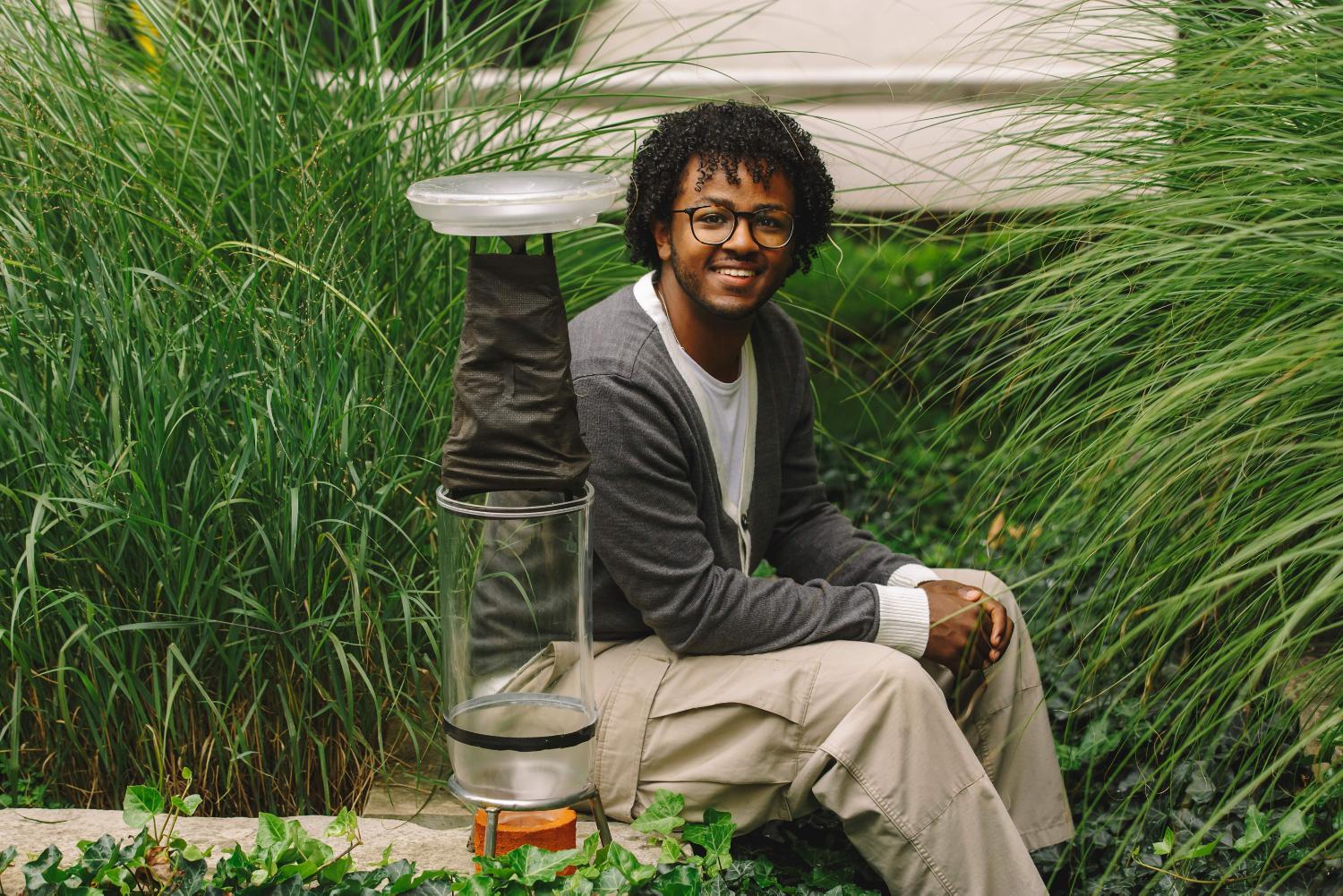 Sustainable Irrigation System Wins 2023 Canada National James Dyson Award
Carleton University student Kaleb Aman named Canadian national winner of the international award for his invention DewPointe, a sustainable irrigation system that uses bottom-up watering techniques.
September 13, 2023 – The Canadian James Dyson Award national winner, Kaleb Aman, created DewPointe –  sustainable irrigation system that uses collected atmospheric moisture and bottom-up watering techniques. The dry spell season in the Longido District of Tanzania hinders many smallholder farmers from efficiently cultivating crops year-round. With the limited water supply, the priority of expensive tap water is always drinking water and sustaining livestock. DewPointe's aim is to provide a low cost and sustainable solution that encourages small holder farmers to cultivate crops all year round including the dry season.
The James Dyson Award is an international design award that celebrates, encourages and inspires the next generation of design engineers. Each year a national winner is selected and receives a cash prize. In addition, runner ups are named, and all three inventions move to the next round of the award to be considered for the top 20 list comprised of the best inventions around the world.
The Problem

The recent poor harvest in the Longido district resulted in limited food availability and a reduction of casual farm labour opportunities – which led to high commodity prices and eventually leading to food insecurity. This is a reality for many countries and community that face dry spell seasons.

The Solution

The existing industry focus on water-from-air is biased towards creating solutions that are relatively complicated and expensive drinking water systems. Aman invented DewPointe, a solution that would encourage crop production year-round through a low cost, passive irrigation system. DewPointe solution that fits the needs and the lifestyle patterns of the Longido people while aiming to encourage food security and create revenue in crop yield while conserving water.

During Aman's fourth year of Industrial Design at Carleton University, he was given the opportunity to travel to Tanzania. Leading up to his trip he was made aware of the dry spell season and that farmers did not have the opportunity to grow crops to feed their community. With the limited water supply, the priority of expensive tap water is always drinking water and sustaining livestock. Unfortunately leading to agriculture being overlooked and food insecurity.
The Design
From the beginning, Aman's aim was always to create something with locally found materials.
Prior to Tanzania, Aman trialed many different methods to harvest condensation to form runoff to water crops passively but quickly learned the temperature at night does not drop enough to create the dew point for moisture to condense. Through this trial he turned to research found materials that could absorb moisture in the atmosphere and release that moisture when exposed to heat. Eventually leading him to charcoal for accessibility and its hygroscopic properties.
He stimulated tests with bags of charcoal at different thicknesses, size of pellets, and material of the bag. Then prototyped different mechanisms for the transition of the charcoal in its exposed and closed positions. The frame would slide up and down a glass basin with a rubber ring around the frame. After user testing, the form of the handle was finalized and it was time to bring the components together visually, a form that would seamlessly transition the system into the ground.
 "The design process is the most exciting part. Learning and exploring Tanzania made way for new ideas and inspired a lot of aspects that went into DewPointe," Aman said. He drew inspiration directly from Tanzania – through clay making, textiles to insects.
The Namib Beetle: Found in southwestern deserts in Africa and the Namib beetle harvests its own drinking water from moisture in the air. The beetle has bumps and grooves on its back that have different purposes. The bumps are hydrophilic and as water condenses on them, the droplets group up and runoff into the hydrophobic creases which are waxy and easily flow right into the beetle's mouth. The conical shape with micro grooves on DewPointe were inspired by the Namib beetle's shape and survival.
Breathable Fabric: Breathable fabric is an important aspect of this is how the charcoal is held and placed in and taken out of DewPointe. The fabric bag was locally made by the women in the community. A unique feature of the charcoal bag are the dimples to keep the bag thickness consistent at 1/2 an inch and so that all the pellets in the bag have an equal opportunity to be reached by the moisture in the atmosphere.
Olla – Clay pot: An olla is a ceramic unglazed jar that could be used for the storage of water for purposes like irrigation. Olla irrigation is extremely water efficient and prevents excessive evaporation and water runoff. The olla clay pot promotes deep watering and dense root growth which encourages more efficient nutrient and water uptake.
About the Inventor
Born in Maryland, U.S.A, and raised in Ottawa, Kaleb Aman is the second eldest of four. Growing up, Aman was interested by a deep desire to elevate everyday experiences. A big fan of visual arts, music and maths. Aman's  desire for design grew through his discovering American Designer Tinker Hatfield.  It was in high school where Aman learned that he could blend his favourite subjects, arts and maths – and discovered Industrial Design. Combining aesthetics and user-centered interaction while also establishing a relationship with functionality and manufacturing principles are critical when creating effective and innovative solutions is at the core of Aman's values as an Industrial designer. Kaleb Aman is a current industrial design student at Carleton University. An optimistic spirit Aman sees endless possibilities to improve everyday experiences. "Being at Carleton has taught me to look at problems through a holistic approach with the provided interdisciplinary foundation".
What's Next for DewPointe
Aman plans to use the £5,000 prize to take steps to continue field testing and work with a Physical Geographer specializing in atmospheric water to consult on DewPointe's potential. Eventually, Aman would like to present the concept to NGOs hopefully leading to implementing DewPointe with small holder farmers facing food insecurity due to the dry season.
Problem: Whales are getting caught and dying in lobster and crab fishing equipment. A close friend of the WhaleSafe team is from a lobster fishing family in Atlantic Canada, and through this connection the team learned about the Canadian and American federal government's proposed legislation to require fishers to use whale safe gear, starting in 2024. Therefore, the inventors set out to create a design that not only kept whales safe, but also did not destroy the industry that so many depend on.
Solution: WhaleSafe developed a rope-on-demand system that stores the rope underwater until the fisher retrieves the traps. WhaleSafe's aim is to help prevent the extinction of whales.
About the Inventors: Collin Bolt, Benjamin Beazley and Jake Chateauneuf are Mechanical Engineers that recently graduated from the University of Waterloo. To learn more about WhaleSafe, visit the website here.
Problem: As North America pursues greener goals; it is expected that more people will adopt cycling as their primary method of transportation. Though many North American roads were not designed with cyclists in mind; some roads do not have any bike lanes or many of those that do are nothing more than additional paint on an already narrow laneway. When vehicles impact cyclists, the mismatch in size can result in a cyclist's serious injury or even death. Any means to improve the safety of all on the road, before, during, and after an accident is important to all who share the road, especially to those who travel by bicycle.
Solution: Cyclops Ride Assist is an all-in-one system that adds modern automobile safety features on any bicycle. With blindspot detection, crash detection, and video logging features, Cyclops keeps cyclists safe and motorists accountable while on the road.
About the Inventors: Amos Yu, Manny Lemos and Aaron Li are Electrical Engineers recently graduated from MacMaster University. To learn more about Cyclops Ride Assist, visit the website here.
The path to the James Dyson Award 2023
All three inventions will progress to the international stage of the James Dyson Award. The International shortlist will be announced on October 18 and the International winners on November 15.