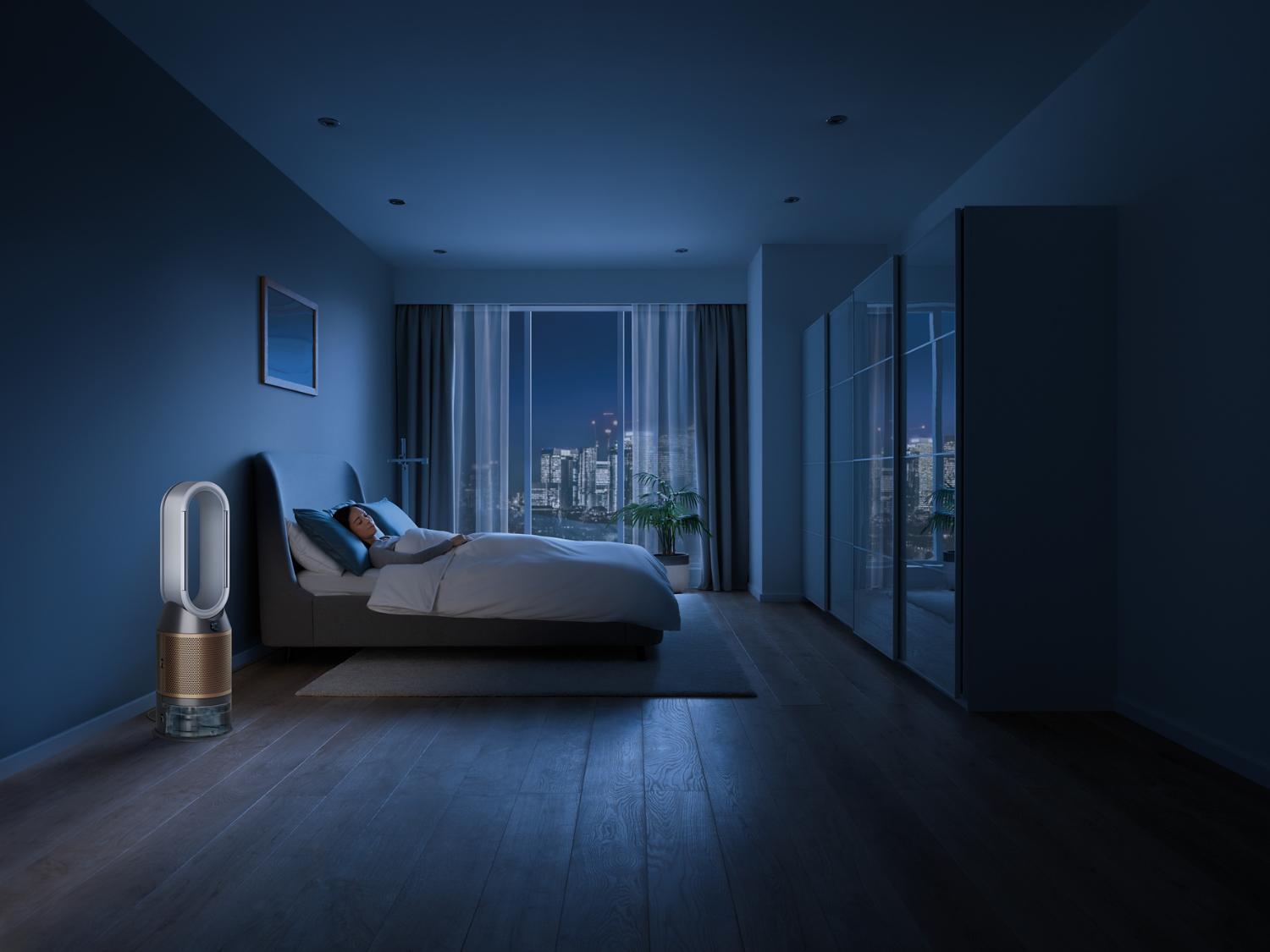 Dyson launches its first purifying humidifying fan that senses and destroys potentially harmful formaldehyde
The Dyson Purifier Humidify+Cool Formaldehyde brings together Dyson's latest formaldehyde sensing and destruction capabilities with hygienic UV-C humidification technology, responding to today's climate of heightened pollution and hygiene awareness.
October 19, 2021

Today, Dyson unveiled its latest purifying, humidifying technology, introducing the Dyson Purifier Humidify+Cool and Dyson Purifier Humidify+Cool Formaldehyde. The Formaldehyde model combines Dyson's latest solid-state formaldehyde sensor and full-machine H13 HEPA filtration with hygienic humidification capabilities. Both models automatically purify, precisely sensing and capturing pollutants, while using UV-C technology to remove 99.9% of bacteria in water [1].
"The off-gassing tendency of formaldehyde means that it can build up within the home and go undetected for years, while humidifiers without sufficient water treatment can project polluted water droplets into the air. Dyson has engineered a machine that tackles both of these problems, providing precise sensing and continuous destruction of formaldehyde, whilst hygienically humidifying for cleaner air."
- Alex Knox, Vice President of Environmental Care

Formaldehyde Sensing & Destruction

In an evolution of Dyson's existing sensing capabilities, the new Dyson Purifier Humidify+Cool Formaldehyde now features a solid-state sensor, specifically engineered to detect the potentially harmful pollutant formaldehyde. While some other gel-based formaldehyde sensors can deteriorate overtime and are easily confused with other VOC (volatile organic compound) pollution, Dyson's solid-state formaldehyde sensor works alongside Dyson's unique algorithm to precisely monitor formaldehyde levels - intelligently ignoring other gases which are detected by a dedicated VOC sensor.

 

Sources of formaldehyde inside the home include pressed wood products, cleaning agents, carpets and do-it-yourself products such as paint, wallpapers and varnishes. Being 500 times smaller than particles the size of 0.1 microns, formaldehyde is particularly difficult to capture. When left undetected, it can lead to prolonged exposure due to continuous release of airborne chemicals, known as off-gassing. This can be exacerbated by modern, well-sealed homes as pollutants become trapped inside and are unable to escape. Dyson's Selective Catalytic Oxidization (SCO) filter continuously destroys formaldehyde at a molecular level [2].

Hygienic humidification & improved filtration

Building on Dyson's commitment to hygienic and clean air, both the Dyson Purifier Humidify+Cool and the Dyson Purifier Humidify+Cool Formaldehyde now also feature full machine HEPA filtration. While many purifiers claim HEPA filtration, if they are not adequately sealed, indoor pollutants can bypass the filter and escape. In addition, modern air conditioning and central heating can cause indoor air to dry out. Humidifiers are a well-established solution to dry air in the home, but dirty reservoirs and filters in humidifiers can quickly breed bacteria and mould. In some humidifiers, this can then be carried in the water droplets of mist or steam released into the air [3].

 

Dyson engineers have re-engineered the machine airflow pathways to achieve fully-sealed HEPA 13 standard filtration [4] – not only ensuring that no air bypasses the filter but blocking any potential leak points through which dirty air might enter the airflow. This means both models have been proven to capture H1N1 influenza virus [5] and 99.97% of particles as small as 0.3 microns such as allergens, bacteria, pollen and mold spores.

 

As well as humidifying with purified air, the Dyson Purifier Humidify+Cool and Dyson Purifier Humidify+Cool Formaldehyde uses UV-C technology to inhibit bacteria growth, destroying 99.9% of bacteria in the water [1]. Dyson engineers developed a highly reflective PTFE tube through which UV-C light is reflected down its length, ensuring that bacteria are exposed to the UV-C rays multiple times rather than just once, to ensure their destruction. These machines hygienically humidify with treated water vapour, rather than droplets. Both provide up to 36 hours of hygienic humidification [6] and a five litre water tank gives continuous humidification without regular refilling.

 
Deep Clean Cycle

Some water types can leave mineral residue such as limescale on the evaporator and conventional humidifiers can be difficult to deconstruct and clean, increasing the chance of inadequate machine care. For simple and hassle-free maintenance, Dyson has engineered a deep clean cycle that thoroughly cleans all parts exposed to water, notifying the user when cleaning is required and directing them through the process.

Air Multiplier Technology – whole-room purification

Dyson Air Multiplier™ Technology projects a stream of hygienically humidified and purified air to every corner of the room [7]. Full-room purification is tested with Dyson's POLAR methodology which uses nine sensors and no added ceiling fan in an 81m3 test chamber to replicate a real living room, instead of in small lab tests used in some industry standards [8]. Auto mode enables the machine to intelligently react to changing air quality and humidity levels, and the machine can be remotely controlled by the Dyson Link App [9] or activated by voice control [10].
[1] Tested to DTM-004533.
[2] 'Third party full machine testing based on GB/T 18801-2015 formaldehyde cumulative clean mass testing with continuous injection until plateau of formaldehyde CADR is achieved. Results may vary in practice.
[3] Humidifiers: ease skin, breathing symptoms. MayoClinic.org.
[4] Dyson's product filtration efficiency at MPPS achieved 99.95% H13 HEPA level defined by EN1822, compared to the purifiers based on market data [from March 2020]. Product filtration efficiency tests conducted at IBR US within a chamber specified in ASTM F3150, under max mode and using particles challenged by DEHS oil according to EN1822.
[5] We challenged our purifier with airborne influenza A (H1N1 virus) at an independent lab. After 60 minutes in a chamber, at maximum fan speed, the airborne virus was reduced by 99%. Real-life efficacy may vary. Gas capture rates may vary
[6] Based on fan speed 1
[7] Tested for purification coverage in an 81m³ chamber. Tested for humidification coverage in a 41m³ chamber.
[8] In maximum setting. Tested for air projection, purification coverage in a 81 m³ room.
[9] Requires device to run app, Wi-Fi or mobile data, Bluetooth ® wireless technology 4.0 support, and iOS version 10 or Android version 5 (or above). Standard data and messaging rates may apply.
[10] Refer to the Dyson Link app for compatible voice services