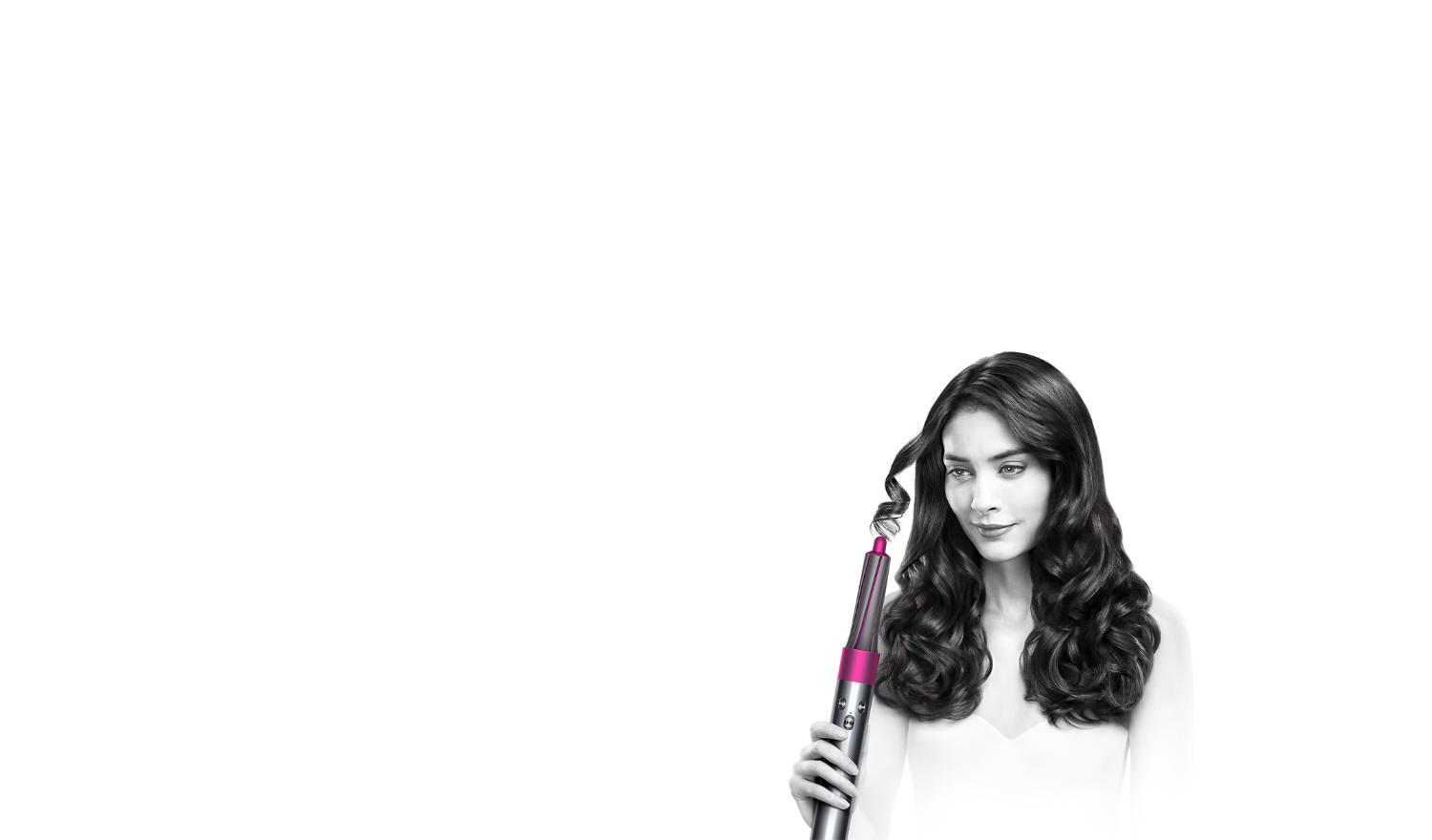 Curl. Wave. Smooth. Dry. With no extreme heat.
Harnesses the Coanda effect
The Coanda effect is an aerodynamic phenomenon. Air, when propelled at the right speed and pressure, naturally follows an adjacent surface, entraining surrounding air. The Dyson Airwrap™ styler creates a spinning vortex of air around the barrel that gently attracts, wraps and curls hair.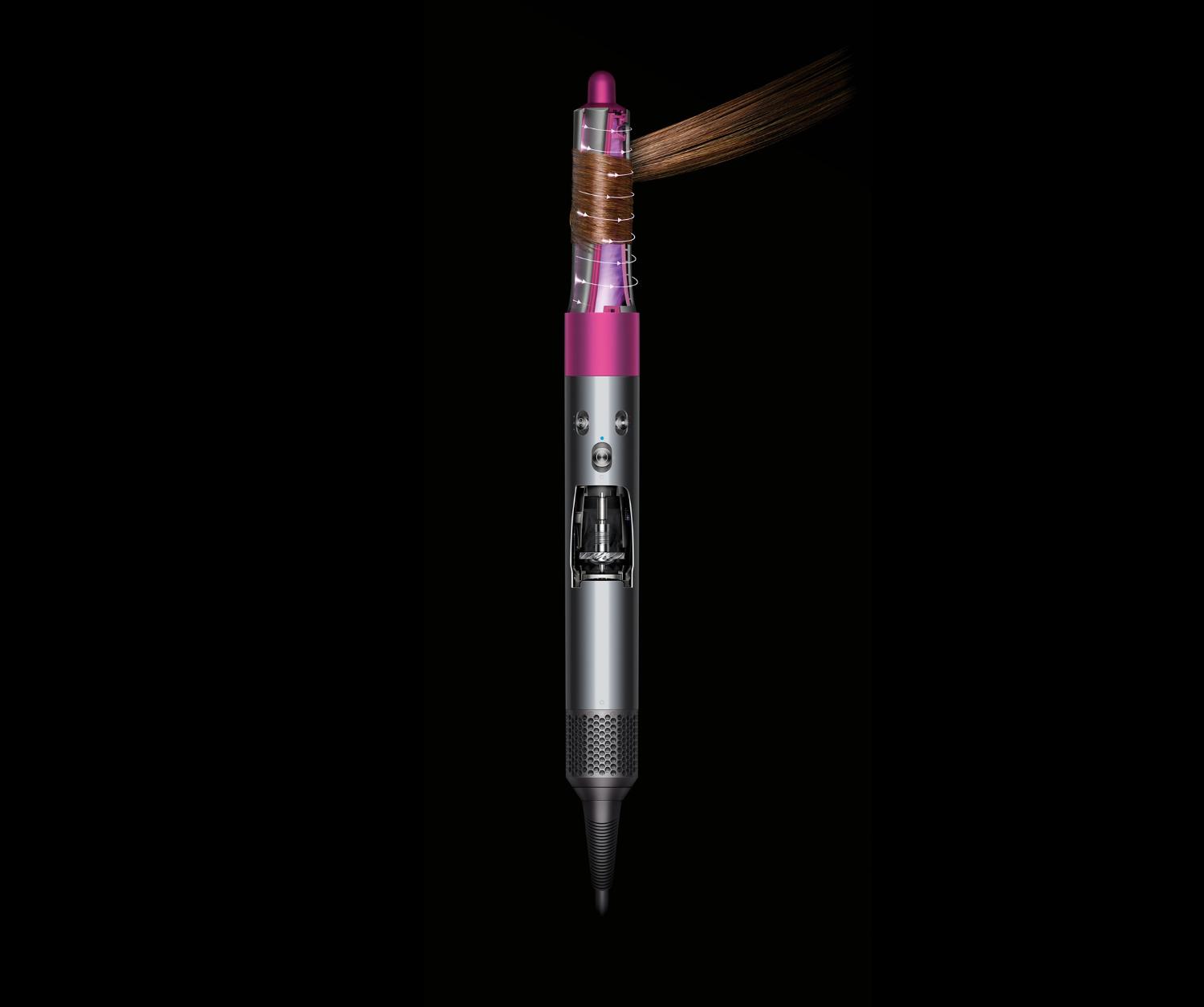 Which Dyson Airwrap™ styler is right for you?
With three options to choose from, we can help you select the best one for your hair type.

Dyson Airwrap Styler Complete (Black/Purple)

Powerful Dyson digital motor V9

For multiple hair types

Brushes to add body and volume, smooth or control and barrels to curl or wave

9 accessories included

See all

Click to learn more

30mm Airwrap™ barrels

Create voluminous curls or waves with the Coanda effect

40mm Airwrap™ barrels

Create loose curls or waves with the Coanda effect

Firm smoothing brush

Creates a straighter style with less frizz and fewer flyaways*

Soft smoothing brush

Creates a smooth, blow-dry finish. Engineered to be gentle on the scalp

Round volumizing brush

Engineered to give body and shape to limp, flat hair

Pre-styling dryer

Takes hair from wet to damp, ready for styling

Storage case

Protects and stores the Dyson Airwrap™ styler and attachments

Non-slip mat

For safe placement during and after styling

Filter cleaning brush

Specialist brush for easy filter cleaning

Dyson Airwrap™ styler Complete (Iron/Fuchsia)

Powerful Dyson digital motor V9

For multiple hair types

Brushes to add body and volume, smooth or control and barrels to curl or wave

9 accessories included

See all

Click to learn more

30mm Airwrap™ barrels

Create voluminous curls or waves with the Coanda effect

40mm Airwrap™ barrels

Create loose curls or waves with the Coanda effect

Firm smoothing brush

Creates a straighter style with less frizz and fewer flyaways*

Soft smoothing brush

Creates a smooth, blow-dry finish. Engineered to be gentle on the scalp.

Round volumizing brush

Engineered to give body and shape to limp, flat hair

Pre-styling dryer

Takes hair from wet to damp, ready for styling

Storage case

Protects and stores the Dyson Airwrap™ styler and attachments

Non-slip Mat

For safe placement during and after styling

Filter cleaning brush

Specialist brush for easy filter cleaning

Dyson Airwrap™ styler Volume+Shape (Iron/Fuchsia)

Powerful Dyson digital motor V9

Brushes to smooth or volumize

Barrels to curl or wave

7 accessories included

See all

Click to learn more

30mm Airwrap™ barrels

Create voluminous curls or waves with the Coanda effect

Soft smoothing brush

Creates a smooth, blow-dry finish. Engineered to be gentle on the scalp.

Round volumizing brush

Engineered to give body and shape to limp, flat hair

Pre-styling dryer

Takes hair from wet to damp, ready for styling

Storage case

Protects and stores the Dyson Airwrap™ styler and attachments

Non-slip mat

For safe placement during and after styling

Filter cleaning brush

Specialist brush for easy filter cleaning

Dyson Airwrap™ styler Smooth+Control (Iron/Fuchsia)

Powerful Dyson digital motor V9

Brush engineered to smooth and control

Barrels to curl or wave

7 accessories included

See all

Click to learn more

30mm Airwrap™ barrels

Create voluminous curls or waves with the Coanda effect

40mm Airwrap™ barrels

Create loose curls or waves with the Coanda effect

Firm smoothing brush

Creates a straighter style with less frizz and fewer flyaways*

Pre-styling dryer

Takes hair from wet to damp, ready for styling

Storage case

Protects and stores the Dyson Airwrap™ styler and attachments

Non-slip mat

For safe placement during and after styling

Filter cleaning brush

Specialist brush for easy filter cleaning