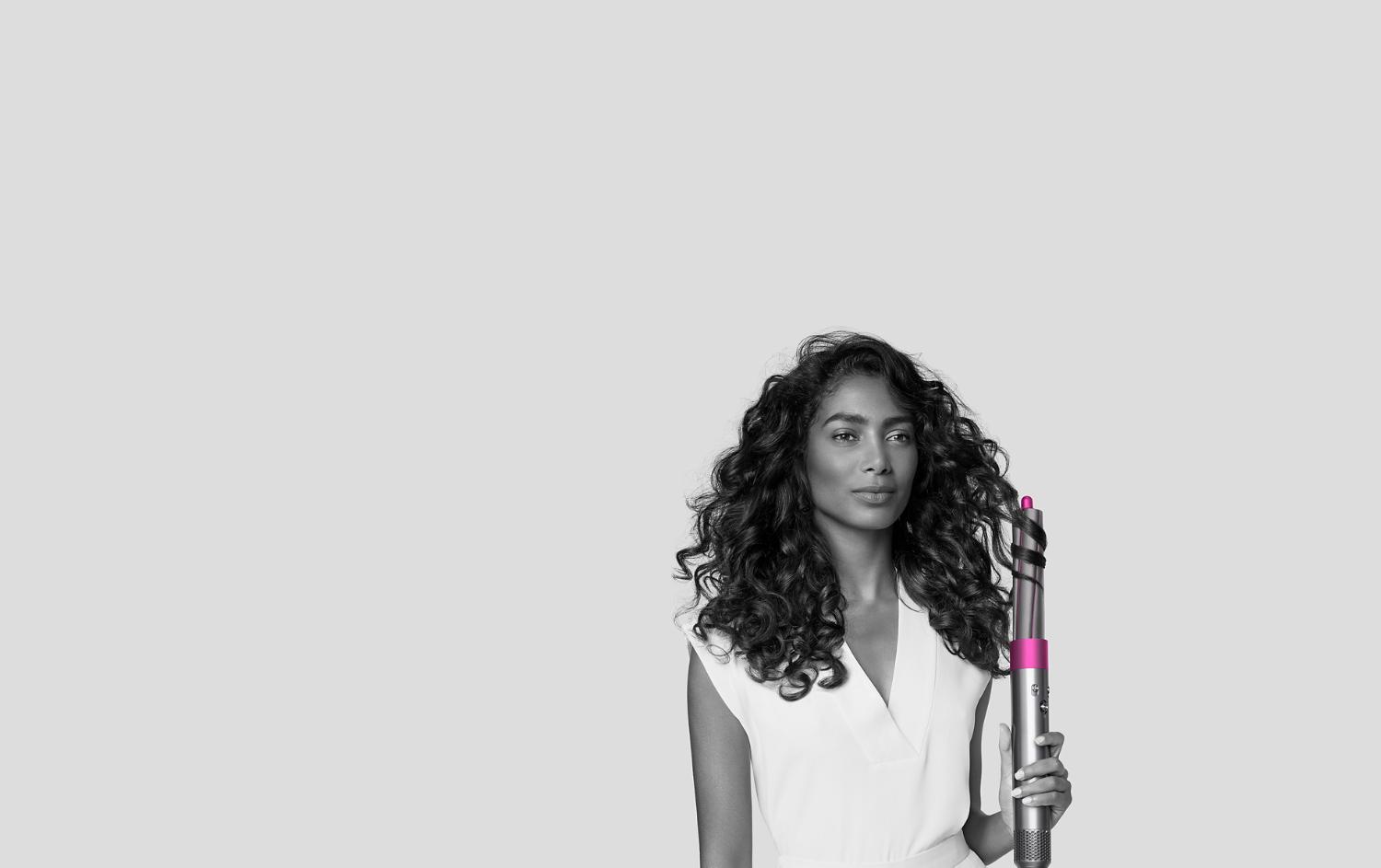 How to use your Airwrap™ Styler
Curl. Wave. Smooth. Dry.
See how to achieve your perfect look, with step-by-step styling guides.
Curl and wave
See how to create perfect curls and waves, with barrels engineered for your hair type and style.
Wavy bob
Add body and texture to your bob. Learn how to create soft, loose curls and waves in short to medium-length hair.
Casual curls
See how to create and set gentle, natural-looking casual curls.
Beach waves
See how to create your own textured, natural-looking beach waves in longer hair.
Six steps to curl retention
1. Start with damp-to-touch, towel-dried hair.
2. Use the 30mm or 40mm Airwrap™ barrel.
3. Use high heat and airflow.
4. Hold for 15 seconds, or until hair is completely dry before you turn the machine off.
5. Set curl with the cold shot for 5-10 seconds.
6. Add styling product such as hairspray to maximize curl longevity.
Smooth and volumize
See how to achieve a smoother style or create more body, with specialized brushes for different hair.
Silky and straight
How to create smooth, silky hair with a soft appearance. For fine hair.
Smooth and shape
How to style shorter hair and bangs with ease. For fine hair.
Textured volume
How to shape and lift your hair for textured, natural-looking body.
Smooth and tame
How to create a smoother, straighter style.¹ For shorter, coarser hair.

Smooth and straight
How to create a smooth, elegant style – from roots to tips. For coarser hair.

Dyson Airwrap™ styler Complete (Nickel/Red)

Engineered for multiple hair types.

11 accessories & attachments included

See all

Click to learn more

30mm Airwrap™ clockwise barrel

Create voluminous curls or waves with the Coanda effect

30mm Airwrap™ counterclockwise barrel

Create voluminous curls or waves with the Coanda effect

40mm Airwrap™ clockwise barrel

Create loose curls or waves with the Coanda effect

40mm Airwrap™ counterclockwise barrel

Create loose curls or waves with the Coanda effect

Firm smoothing brush

Creates a straighter style with less frizz and fewer flyaways*

Soft smoothing brush

Creates a smooth, blow-dry finish. Engineered to be gentle on the scalp.

Round volumizing brush

Engineered to give body and shape to limp, flat hair

Pre-Styling Dryer

Takes hair from wet to damp, ready for styling

Storage case

Protects and stores the Dyson Airwrap styler and attachments

Non-slip Mat

For safe placement during and after styling.

Filter cleaning brush

Specialist brush for easy filter cleaning

Dyson Airwrap™ styler Complete (Nickel/Fuchsia)

Engineered for multiple hair types.

9 attachments & accessories included

See all

Click to learn more

30mm Airwrap™ barrels

Create voluminous curls or waves with the Coanda effect

40mm Airwrap™ barrels

Create loose curls or waves with the Coanda effect

Firm smoothing brush

Creates a straighter style with less frizz and fewer flyaways*

Soft smoothing brush

Creates a smooth, blow-dry finish. Engineered to be gentle on the scalp.

Round volumizing brush

Engineered to give body and shape to limp, flat hair

HS01 Pre-Styling Dryer Fu

Takes hair from wet to damp, ready for styling

Storage case

Protects and stores the Dyson Airwrap™ styler and attachments

Non-slip Mat

For safe placement during and after styling

Filter cleaning brush

Specialist brush for easy filter cleaning

Dyson Airwrap Styler Complete (Black/Purple)

Engineered for multiple hair types.

9 attachments and accessories included

See all

Click to learn more

30mm Airwrap™ barrels

Create voluminous curls or waves with the Coanda effect

40mm Airwrap™ barrels

Create loose curls or waves with the Coanda effect

Firm smoothing brush

Creates a straighter style with less frizz and fewer flyaways*

Soft smoothing brush

Creates a smooth, blow-dry finish. Engineered to be gentle on the scalp

Round volumizing brush

Engineered to give body and shape to limp, flat hair

HS01 Pre-Styling Dryer Pu

Takes hair from wet to damp, ready for styling

Storage case

Protects and stores the Dyson Airwrap™ styler and attachments

Non-slip mat

For safe placement during and after styling

Filter cleaning brush

Specialist brush for easy filter cleaning